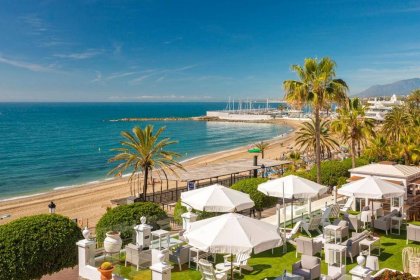 Picturesquely situated in a bay surrounded by mountains and bounded by the rivers Guadalmedina and Guadalhorce, Málaga with its two thousand-eight hundred years of history is one of the oldest cities in Europe.
Malaga is a city, seaport and holiday resort on the Mediterranean in Southern Spain, and is the heart of the Costa del Sol, a major tourist region with a population of approx 270.000.
Bénéficiant d'une position géographique privilégiée, la zone côtière est protégée des vents du nord par la montagne, assurant les températures moyennes les plus élevées d'Espagne et plus de 300 jours de soleil par an. Tandis que le long de sa partie orientale accidentée, des projections rocheuses de terres pénètrent dans la mer, la région occidentale est plus douce et plus sablonneuse, avec de grandes plages qui en font l'une des régions les plus développées d'Andalousie en raison de son attrait démographique et touristique.
The Moors occupied Málaga until the mid-fifteenth century, after which it became one of the most important merchant centres in the Iberian Peninsula. This illustrious past has left its imprint in the historic centre of Málaga, with the most significant testament to this heritage being La Alcazaba, a fortress dating back to 1065 and now a fascinating archaeological museum. The nearby castle, rebuilt by the Moors and now a traditional Parador (State Hotel), is also worth a visit if just for the breathtaking panoramic views.
Málaga became a popular winter resort for the wealthy during the 19th century and was famed for is elegance and sophistication. The beautiful park on Calle Alameda dates back to this era and is one of the most celebrated botanical collections in Europe. Open-air concerts are held here every Sunday during winter, making a refreshing change from the beach scenario on the coast.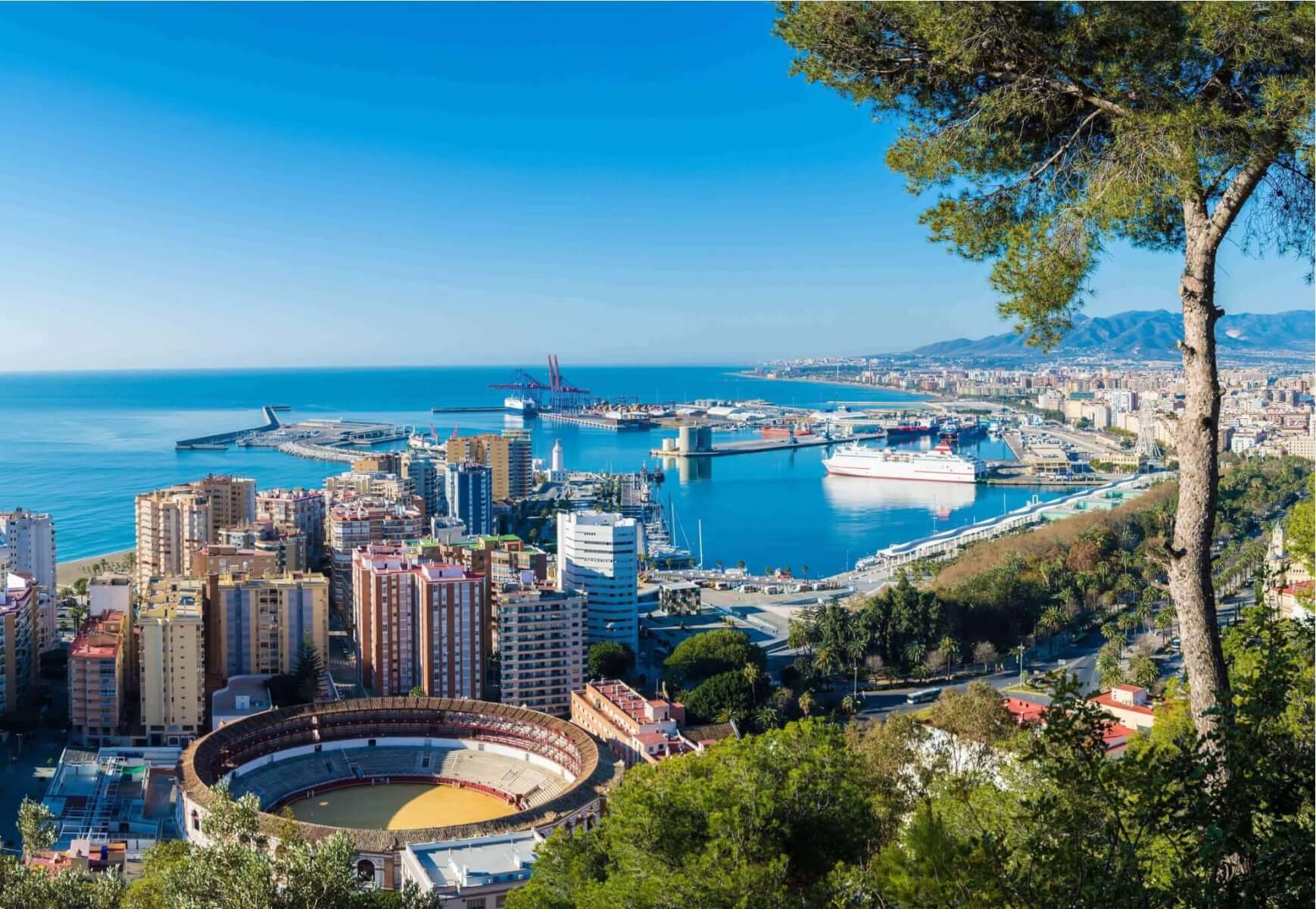 Pablo Picasso is the City's most famous son (not counting Antonio Banderas of course!) and there are several galleries showcasing his work, including the 16th-century Museum of Fine Arts next to the Cathedral. His birthplace in Plaza Merced, an official heritage site since 1983, is open to the public and is an archive of his life and works.
Museo Picasso Málaga is a moving experience of Picasso's lifetime of works and has become one of Málaga's prime attractions. The museum is located in an old palace converted into an amazing art experience. Very natural and authentic, the loved and precision of the craftsmen is evident in the doors and the roof paying tribute to their fellow countryman and eminent artist. The permanent collection is composed of donations from his grandson and wife. Even in Picasso's early paintings is demonstrated a quality of brushstroke and amazing maturity of composition at age 16. There was never a painter like him before and nothing like him after. Seeing the works concentrated here gives even greater respect for one of the greatest men of the 20th Century.
Museo Carmen Thyssen, and Art Gallery composed from the Carmen Thyssen-Bornemisza Collection, was inaugurated on the 24th of March 2011. This art gallery comprises of 2677 works from the Carmen Thyssen-Bornemisza collection and makes a complete run through the different genres of Spanish Painters of the 19th century, a painting era defined chronologically between Francisco de Goya and Pablo Picasso, giving particular emphasis on Andalusian art. Teatro Cervantes is Málaga's main theatre where Antonio Banderas once trod the boards and he still visits.
En plus d'être une capitale culturelle, Málaga est un bon endroit pour manger. Les Malagueños aiment leur nourriture, et les bars et restaurants sont le lieu de la vraie vie sociale. Le choix est illimité et à un prix raisonnable. Certains bars proposent un menu du jour avec du vin à partir de 6 euros. Les tapas, petites portions de nombreux plats différents, sont une tradition andalouse et un moyen merveilleusement bon marché d'essayer une variété de plats locaux.
Málaga is famous for its "pescaito frito", an assortment of small fried fish including sardines and anchovies, best followed by a glass of ice-cold vino at one of the many old fashioned bodegas in town. But if you want that absolute "catch of the day" freshness El Palo, a typical fisherman's village just to the east, is the place to go.
Au bar à tapas le plus ancien de Malaga "Antigua Casa de la Guardia", try a tapas and glass of Málaga wine. Find no. 16 on the north side of Alameda Principal. Málaga closes for the siesta period, so this is a perfect time for a long relaxing lunch.
Málaga boasts one of the highest concentrations of world-class golf courses and is often nicknamed "The Costa del Golf". Aside from the beaches, for families, there are theme parks, water parks, safari parks, go-karting and many beautiful public gardens. Young visitors can enjoy Benalmadena's Puerto Marina & '24 hour square' and Marbella's Puerto Banus, both very trendy and chic but be warned the bars and clubs don't fill up until near midnight and stay open till dawn.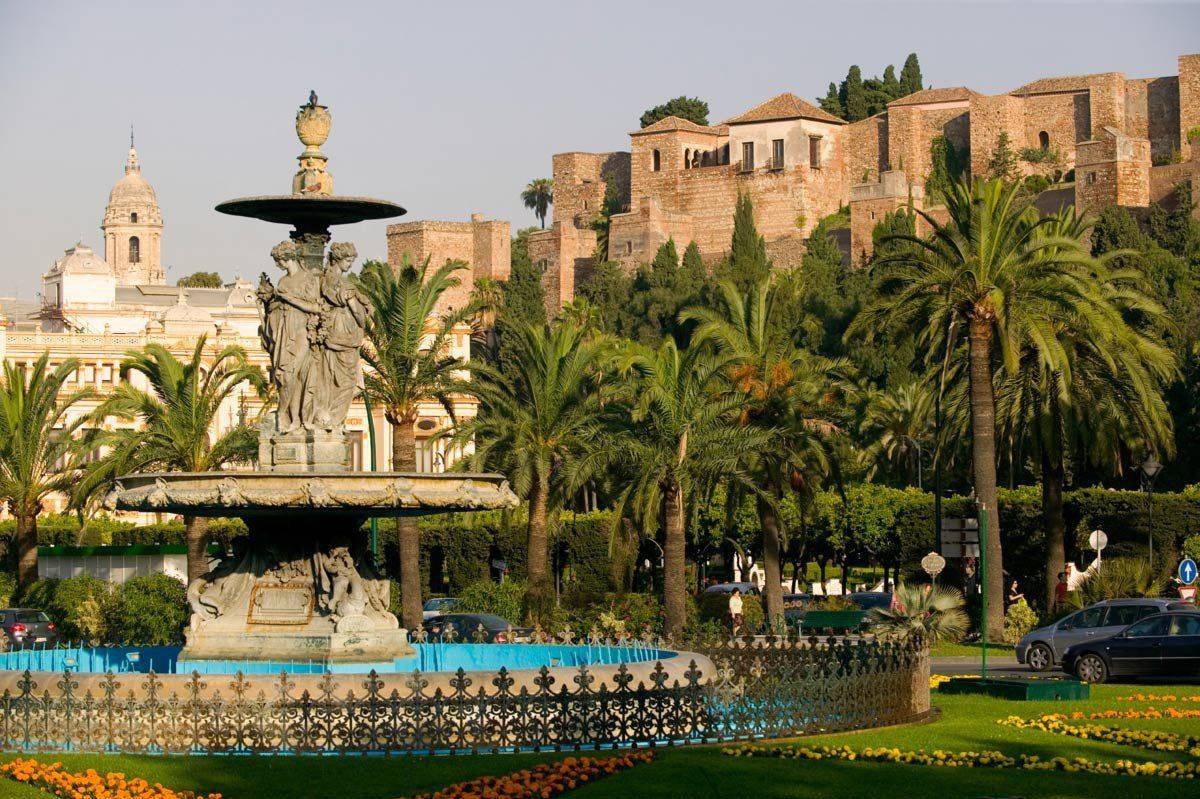 These days, Málaga prides itself on being a modern city with Calle Larios being the heart of commerce and considered the local Bond Street equivalent. This is the ideal location to start exploring the city being surrounded by attractive small streets, plazas as well as the magnificent cathedral. This renaissance Cathedral possède une façade baroque et un choeur de Pedro de Mena et propose des visites guidées quotidiennes.
Garden lovers won't be disappointed either with the beautiful Alameda Gardens and just outside the city on the way to Antequera, one can discover the extensive botanical collection of Jardines de la Concepcion.
Since 2007, Málaga has entered an economic crisis driven by the global economic crisis. Nevertheless, the city is committed to improve the touristic quality that the city offers its visitors and encourage the growth that businesses with new technologies in "El Parque Tecnológico de Málaga" are experiencing, giving Málaga good growth prospects.
Malaga étant l'une des capitales espagnoles offrant le meilleur climat et le meilleur terrain pour l'utilisation quotidienne du vélo, le conseil municipal de Malaga crée l'infrastructure des pistes cyclables nécessaire pour promouvoir le vélo en tant que moyen de transport au sein de la ville.
Málaga airport is one of the major airports in Spain due to the number of tourist arrivals on charter flights from Northern Europe using Málaga airport as a gateway to the Costa del Sol. In recent years, Málaga has promoted the improvement and expansion of hotels in the city and has already managed to place Malaga amongst the Spanish cities with the best hotels on offer, including the recent opening of a 5-star hotel. The best hotels in Malaga can be found in the city centre and adjacent neighbourhoods.